"Über die Donauschwaben" – Zweite Auflage erschienen
Im Dezember 2012 erschien das dreisprachige Buch "O Podunavskim Švabama / Über die Donauschwaben / About Danube Swabians". Als Herausgeber fungierten die Filmproduktionsfirma "Mandragora film" und der Deutsche Verein "Kikinda". Bei diesem Buch handelt es sich praktisch um eine Zusammenfassung der Podiumsdiskussionen, welche im Frühjahr 2012 in den Städten und Dörfern der Vojvodina, "in denen – auch wenn es da keine deutsche Volksgruppe mehr gibt – wenigstens eine Erinnerung an die Zeiten fortlebt, als sie noch zahlreich vertreten war, an Orten, wo noch immer deutsche Häuser, deutsche Kirchen stehen, wo es noch einige Überreste deutscher Baukunst, deutscher Lebensart gibt" (Colovic, S. 187), jeweils im Anschluss an die Vorführungen des Films "Die Donauschwaben" (Regisseur: Marko Cvejic – mehr hierzu im "Archiv" unter: Die gesammelten Meldungen zu Marko Cvejics Film "Die Donauschwaben") mit zahlreichen Intellektuellen abgehalten wurden. Diese Wissenschaftler steuerten für das Buch, das unter anderem von der Deutschen Botschaft in Belgrad und der Donauschwäbischen Kulturstiftung unterstützt wurde, jeweils einen Aufsatz bei.
Erfreulicherweise war die Nachfrage für dieses Buch so groß, dass nun Ende November 2014 eine aktualisierte zweite Auflage veröffentlicht wird. Bestellungen sind ab sofort möglich. Das Buch (325 Seiten) kann mit oder ohne Film-DVD bestellt werden. Die Preise:
Buch (allein): 20 Euro
Film-DVD (allein): 15 Euro
Vorzugspreis bis zu den Weihnachtsferien (für Buch und DVD): 28 Euro
Weitere Informationen auf dieser Internetseite:
mandragorafilm.com/#/en/podunavske-svabe-turneja
Kontakt und Bestellungen aus Deutschland und Österreich über diese E-Post-Adresse:
susanne.paulus@gmail.com
If you don't live in Germany or Austria, please contact this E-Mail:
mandragorafilm@gmail.com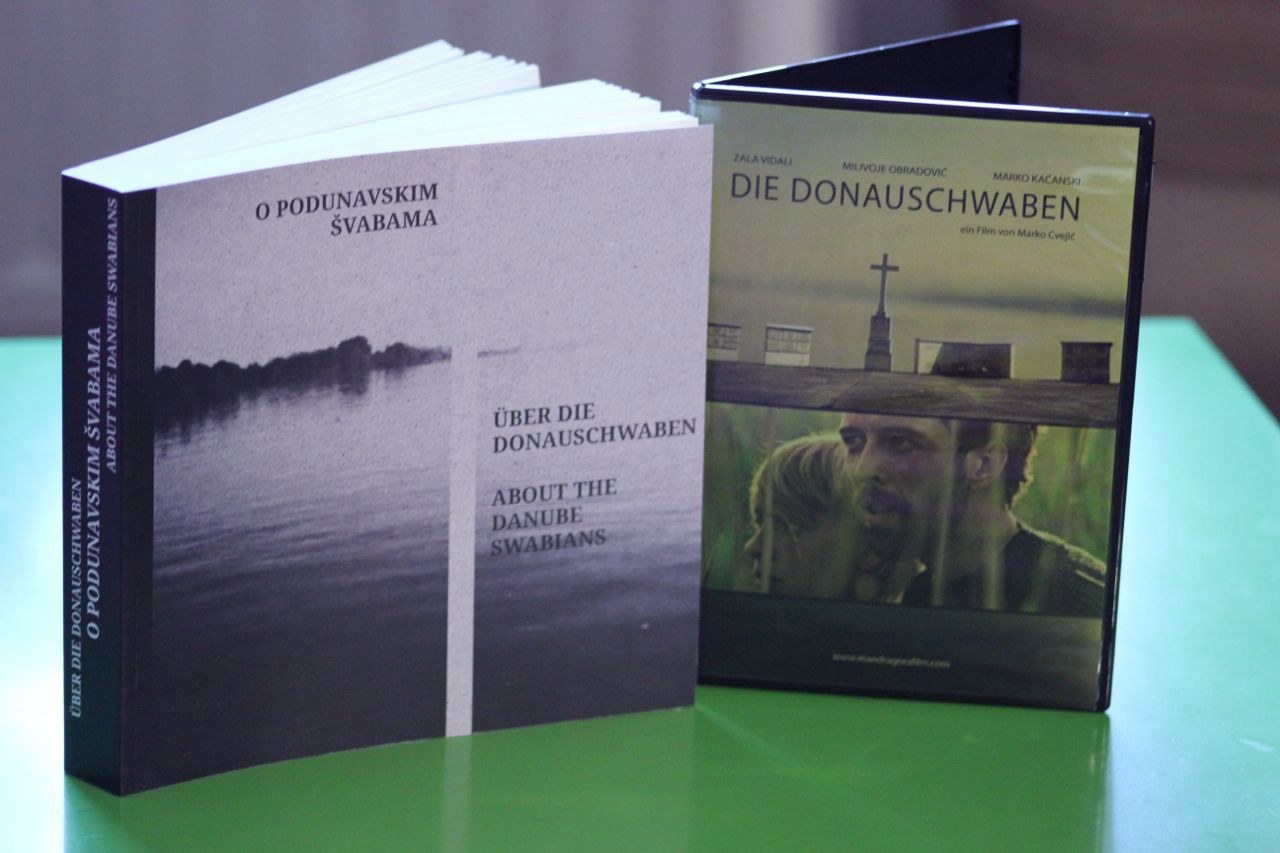 Foto: Mandragora Film
"About Danube Swabians" – Second edition published###>
Due to huge demand for a book About Danube Swabians, we came up with a new, updated edition. A book is created as a result of the project Danube Swabians screening tour 2012 - presentation of the documentary film Danube Swabians written and directed by Marko Cvejic, in Vojvodina's towns and villages, in order to acquaint the audience with the history of the Germans from Vojvodina region. During the realization of this tour from March to June 2012, we visited around twenty places Vojvodina, Austria and Germany, where we discuss this topic with the local community, after the screening of the film. More about the entire project can be found on [x](http://mandragorafilm.com/#/en/podunavske-svabe-turneja" target="_blank"> http://mandragorafilm.com/#/en/podunavske-svabe-turneja .
Numerous intellectuals from different fields gave us great support. They participated in panel discussions and thereby contributed contributed to the popularization of this topic. Some of our guests were: Vladimir Arsenijevic, Milica Tomic, Pavel Domonji, Milena Dragicevic Sesic, Vesna Pesic, Lazar Stojanovic, Teofil Pancic, Marijana Toma, Srdjan Tesin, Nebojsa Popov, Ugljesa Sajtinac, Dubravka Stojanovic, Ivan Colovic. At the end of the screening tour we decided to gather all exposures in one place and publish them as a collection of essays in three languages - Serbian, German, English. The idea was to reach a wider range of those who are interested, and thus tell a story that slowly goes into oblivion together with the last members of the Vojvodina Germans.
As the International day of human rights is approaching, along with Christmas holidays, we would like to offer you second updated edition of a book About Danube Swabians. It has soft cover, 325 pages, illustrations and graphics, and its written in three languages (Serbian, German, English). It can be ordered separately or together with the DVD of a film Danube Swabians. Price of the book is 20 €, price of the DVD is 15 €. Special Christmas holidays price for ordering both is 28 €.
Cheer up some of your friends with this interesting reading, take part in the popularization of this marginalized topic, and support our activities. Please contacts us on If you don't live in Germany or Austria, please contact this E-Mail: mandragorafilm@gmail.com for ordering details.
More about the film, the screening tour and the first edition:
Die gesammelten Meldungen zu Marko Cvejics Film "Die Donauschwaben"
2014-11-28